---
特點說明 FEATURES

為您解決 廢電線電纜處理的困擾,保持廢線 高度的經濟價值。
1.適用 於外皮為塑膠或鉛皮廢電線電纜之處理。
2. 割刀輪採用特殊鋼經過熱處理,韌性及耐用性極高。
3.採用四段變速機,增加您工作效率。
4.正逆轉開關裝置,防止操作時所發生之障礙。
5. 採用鏈條帶動式,增加機械壽命。
6. 避免因燃燒廢電線電纜所引起之空氣污染。
7. 保持塑膠芯線及銅線之經濟價值。
8. 迷你落地型,操作簡便,安全迅速。
1.Applicable to the wasted electric cables and wires with shield of plastic or plumb sheet.
2.The cutting wheels are made from special steel with heat treatment, with very high tenacity and durability.
3.Adopt three-phase accelerator, adding your efficiency.
4.Switching device for counter or clockwise revolution, avoiding any failure during the operation.
5.adopt chain drive, adding the life of the machine.
6.Avoid the an pollution due to the combustion of the wasted cables and wires.
7.Keep the economical value of the plastic as well as the copper.
8.Mini ground type, simple operation, safe and quick.
裁線範例 SAMPLES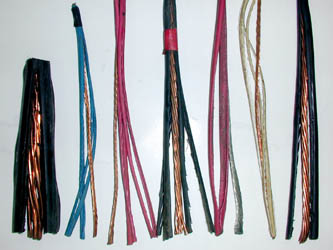 規格 SPECIFICATIONS
| | |
| --- | --- |
|  機   型 MODEL |  FE-WS2H |
|  外觀尺 寸 DIMENSION |  520*600*880m/m |
|  重   量 WEIGHT |  100Kgs |
|  馬   力 MOTOR POWER |  2HP |
|  電   源 POWER SUPPLY |  三相 THREE PHASE 220V/380V四段變速FOUR SHIFT |
|   迴轉速度 WINDING SPEED |  80RPM-200RPM |
|   適用範圍 APPLICABLE SIZE |  1.0m/m -24m/m 扁線(flat cable) 單線,多股線及高壓線 |