!–[if lt IE 7.]> <![endif]–>

FE-CR1M-AO 空油增壓圓管四爪鉚合機
LOOSE TUBE SHAPE TERMINAL CRIMPING MACHINE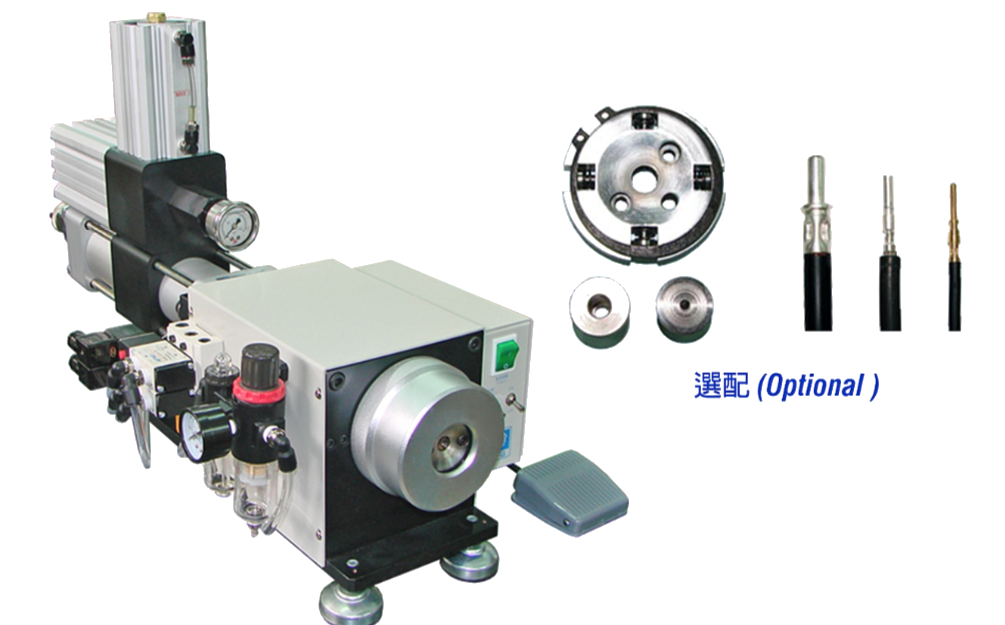 ---
特點說明 FEATURES
1.本機為單粒圓管端子四面鉚合電線專用機。
2. 適用於OD3.5 ~ 10 單粒圓管用。
3. 壓著點視OD大小更換導孔座為專用壓著四爪模,即可使用。
4. 壓著鬆緊為可調式,四爪鉚合均勻,品質穩定、拉力足,適用高頻用線,可防止溫升。
5. 採空管油壓控制,是材料調整5 ~ 8 km/cm 壓力,操作容易。
1.Specila design for crimping loose shape termianl four-side and easy to operate.
2.Terminal range si from OD 3 to 10.
3.Change guiding hole base according terminal OD.
4.Adjustable crimping pressure, stable quality and full pull force. Suitable for high frequency write and prevent temperature raised.
5.Controlled by air and oil pressure and adjust pressure 5 ~ 8 kg/cm according the material.
規格 SPECIFICATIONS
| | |
| --- | --- |
|  機  型 MODEL |  FE-CR1M-AO |
|  外觀尺寸 DIMENSION |  680mmX330mmX380mm |
|  重  量 WEIGHT |  33Kgs |
|  電  源 POWER SUPPLY |  AC110 /220V 50/60Hz |
|  氣  壓 AIR PRESSURE |  5~8kg/cm |
|  鉚壓鬆緊 CRIMP ELASTICITY |  可調式 Adjustable |
|  導  孔 GUIDING HOLE |  可換式 Changeable |
|  使用範圍 RANGE |  3.5 ~ 10~圓管端子 Loosetube shape terminal |