---
特點說明 FEATURES
1.半自動機專用、高檢出精度、容易監看的大液晶螢幕、改善干擾耐性、適合在多樣環境下工作, 減少問題的產生 。
2.採用獲取波形方式不受機械振動的影響,形成穩定的波形,實現不良波形的高檢出精度及低誤判。
3.使用最少的參數設定,防止設定錯誤,省時間。
4.無需觸發感測器及底板的構造(建議),安裝簡單又快速,免維護。
1.Special model for manual press. High detection accuracy. Large and easy-to-see LCD.
Optimized electrical noise resistance under various production environment is achieved. Electrical trouble is reduced.
2.New improved force curve capture system avoids mechanical noise influence.
Stable force curve achieves high detection accuracy and less false alarm.
3.Minimum parameter setting prevents wrong parameter setting, which causes down time.
4.Operation without proximity sensor and base plate type sensor is recommended. Initial set up and daily maintenance are easy and quick.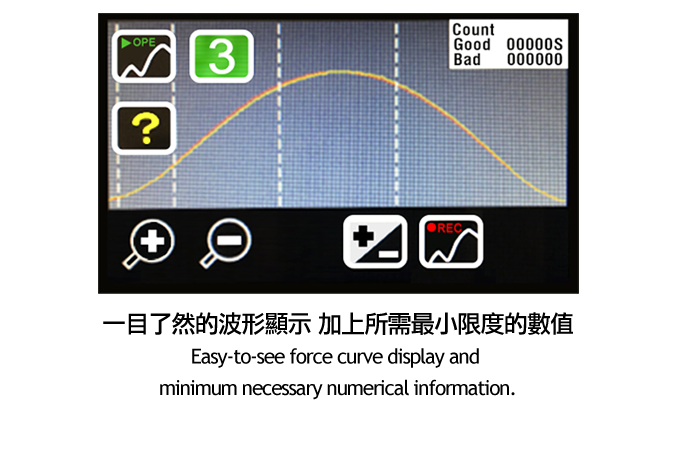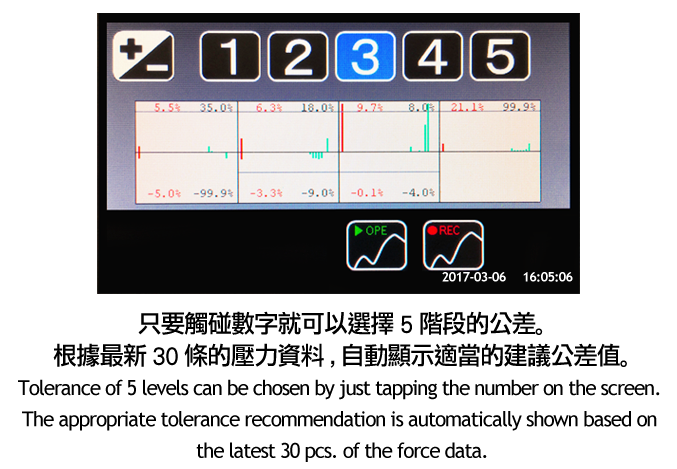 規格 SPECIFICATIONS
| | |
| --- | --- |
|  機  型   MODEL |  FE-CFM-L1 |
|  外觀尺寸   DIMENSION |  137mmx50mmx870mm |
|  通 道 數   NUMBER OF CHANNEL |  1 CH |
|  電  源   POWER SUPPLY |  AC 100~200V 50/60HZ |
|  輸  出  OUTPUT |  停止信號, EJECT 信號 - STOP signal at error judgement |
|  輸  入  INPUT |   外部觸發, 外部復原, 外部教示 - Trigger input, external reset |
|  通  信   COMMUNICATION |  USB 通信 與波形顯示軟體互動 - USB communication with PC software |
|  USB隨身碟 USB MEMORY |  可使用儲存波形 - Available for saving force data |
|  裝置方式  OPERATION METHOD |  外掛於機台側邊 - External in the side way of machine |
|  適用機型  APPLICABLE MODELS |  FE-112A, FE-110CSN, FE-110A, FE-2TC, FE-3.5TC |