---
特點說明 FEATURES
1. 本機採用伺服馬達驅動送線,準確度高,送線速度可微調。
2. 面板按鍵有中,英文版,一目了然,易操作,切斷長度式材質可微調。
3. 專用於各式圓管,波紋管切斷,切斷面平整,可切最大外徑 ø40mm。
4. 切刀座採用氣缸帶動,出力足,亦可選配切斷刀,最大切 AWG6,ø15 mm。
5. 大卷粗線 (45 kgs) 需配合放線機 FE-AF160C 操作。
1. This machine is controlled by servo motor, which brings a more accurate result. Wire feeding speed can be adjust.
2. For your convenience, Chinese or English is showed on the control panel. Easy to learn & operation.
Depends on material, cutting length can be adjusted.
3. Specially for cutting round tube, ripple tube, neat cutting surface and he maximum the maximum OD is ø40mm.
4. Cutter block by air cylinder, enough output power, cutting blades can be optioned, maximum cutting cable wire
AWG#6 within ø15 mm .
5. For big thick roll wires (maximum 45 kgs), need to fit with FE-AF160C wire feeder for smooth operation.
切管範例 SAMPLES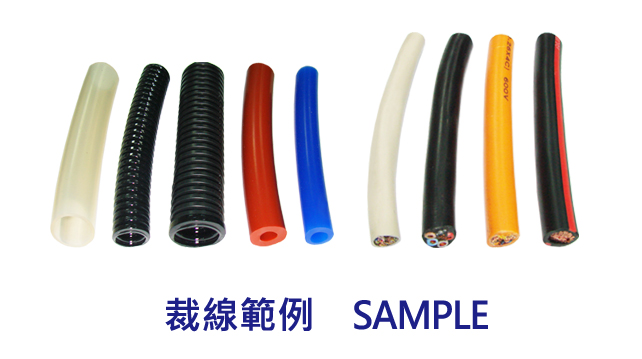 規格 SPECIFICATIONS
| | |
| --- | --- |
|  機  型 MODEL |  FE-6CR-A |
|  外觀尺寸 DIMENSION |  750mmX500mmX520mm |
|  重  量 WEIGHT |  43Kgs |
|  電  源 POWER SUPPLY |  AC 110V/220V 50/60HZ |
|  切斷長度 CUTTING LENGTH |  1~60000mm |
|  使用範圍 RANGE |  CR05~CR32 (MAX.40MM) Cable AWG#6 (ø15mm) |
|  氣  壓 AIR PRESSURE |  5 ~ 7 kgs |