---
特點說明 FEATURES
1.本機專門於打電話金線用端子機,成型後用於電話母座JACK內。
於FE-2TN右側加裝金針送料設備,配合機台卡模、下移動可送金線至端子與線接合。
2.卡式模內金線長度用墊塊轉換可成11、13、15、17、19M/M等長度。
3.特殊鎢鋼送線夾頭,耐磨且耐久用。
1.This machine specially apply to telephone golden pin, after the mold be crimped then put it in telephone jack.
2.The length of golden pin in applicator can be adjusted by an anvil and alter the size to 11,13,15,17,19M/M etc.
3.The wire clamp is made by superior tungsten steel, so it is very excellent durable.
金線送線組合
Golden pin wire feeding assembly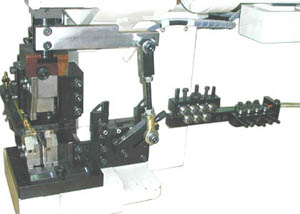 規格 SPECIFICATIONS
| | |
| --- | --- |
|  機  型 MODEL |  FE-2TCG |
|  外觀尺寸 DIMENSION |  360mmX550mmX530mm |
|  重  量 WEIGHT |  100Kgs |
|  電  源 POWER SUPPLY |  AC 110V/220V 50/60Hz |
|  出  力 STROKE STRENGTH |  2Ton |
|  馬  力 HORSE POWER |  1/4HP |
|  衝  程 STROKE |  30mm |
|   金線送距 GOLDEN PIN FEED |  9-21mm |