---
特點說明 FEATURES
1.全機探用伺服馬建控制系統驅動,配合超靜音伺服端子機而設計之新機型。
2.全螢幕中、英觸控顯示,三刀式的切、剝定長裁線方式。使剝皮精度更準確,操作更簡單,性能更穩定。
3.端子壓著位置,由螢幕觸控調整易學又快速上線。
4.設計有50組記憶功能,可縮短更換線材調整時間。
5.可選配 FCM 壓著力感測器,減少不良率,可選配 FE-AF160B 送線機送線,以提升品質。
1.The new designed model is adopted servo motor control and operated with noiseless servo, crimping machine. .
2.Panel display Chinese or English is available. Use the touch screen monitor and the wire strip length in triple-blades style can be adjusted on the main control panel. It is quick to change the selling and easy to operate and accurate result.
3.The crimping seal can be adjusted on the touch screen easily learning and fast manual .
4.The 50 sets of memory files can be saved or retrieved tor required actions.
5. To option FE-FCM crimp force sensor to avoid the poor quality, and also option FE-AF160B mire feeder to increase the quality.
樣本 SAMPLES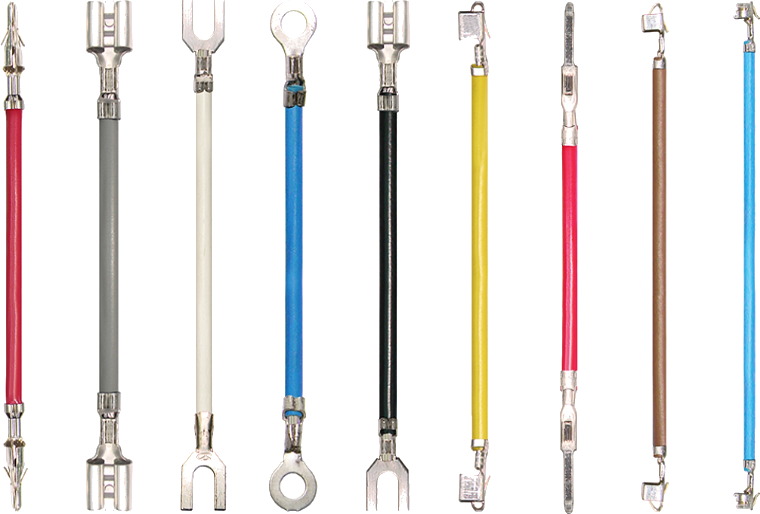 規格 SPECIFICATIONS
 機  型 MODEL

 FE-112A

 外觀尺寸 DIMENSION

 2040 x 1130 x 1400 mm 配合料盤(to match up with the rolling.) 600mm

 重  量 WEIGHT

 435Kgs

 電  源 POWER SUPPLY

 AC 220V 50/60Hz 單相(1 phases); 5A / 1100VA / 770W

 功  能 FUNCTION

 電線尺寸切斷,單、雙邊剝皮,半剝,單、雙端壓著
 Cutting Wire,Stripping on one side or both tow sides, Half-stripping,
 Crimping on one end or both tow sides.

 產  能 CAPACITY

 3000 條/小時 (pcs/hr) - (100mm 長)

 切斷長度 CUTTING LENGTH

 45 ~ 999,999mm 標準(Standard)
 最短PVC長 38mm 視端子
 (The shortest length of PVC is 38mm depends on terminals.)

 剝皮長度 STRIPPING LENGTH

 0.1 ~ 10mm

 適用線徑 WIRE SIZE

 AWG#18~#32 標準 (Standard)

 空氣壓力 AIR PRESSURE

 5 ~ 7 Kgs 需要使用乾燥空氣 (It's necessary to use dry air.)

 端子壓著力 CRIMPING FORCE

 2.0 Ton

 檢出裝置 DETECTORS EQUIPPED

 電線有無、端子有無、端子壓著有無、線材過載檢知
 Wire detecting, Terminal detecting, Mis-crimping, Out of wire and wire
 overload examination.