---
特點說明 FEATURES
1.全機採伺服馬達驅動,定長、送線、裁線、剝皮、扭力大,長度精準。
2.採螢幕按鍵控制,變換尺寸,刀值調整容易適用於AWG14~AWG30線。
3.操作速度為可調式,產能:一頭打端一頭半剝(全剝)每分鐘55~75條;一頭打端一頭扭線每分鐘55~70條。
4.本機配合超靜音變頻端子機,橫、直卡式模均可適用。
5.另可選配超短線:15mm長,一頭打端一頭全剝裝置。
6.設計有50組記憶功能,可縮短更換線材調整時間。
7.操作面板可選擇中文,英文顯示,使用操作耕簡易明瞭。
8.檢知自動停機裝置:端子有無檢知、端子壓著有無檢知、線材有無檢知、線才過載檢知。
1.Adopted servo motor control. Set length, feed, cut, strip, powerful twisting and accurate result.
2.Controlled by panel. Easy to change size and adjust blade value. Applied for AWG14~AWG30 wire.
3.Operating speed is adjustable. Capacity:One end crimping and one end half-strip or full-strip 55~75 pcs/min. One end crimping and one end twisting 55~70 pcs/min.
4.Operated with noiseless invertor duty motor crimping machine and for end and side type applicator.
5. Optional install short wire 15mm one end crimping and one end strip is available.
6.Designed 50 memories function to shorten changing wire time.
7.Panel disply Chinese or English is available.
8.Detector:out of terminal, mis-crimping, out of wire and wire overload.
樣本 SAMPLES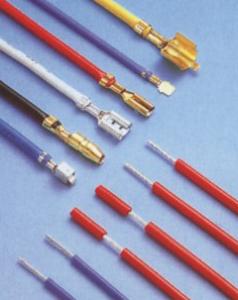 規格 SPECIFICATIONS
| | |
| --- | --- |
|  機  型 MODEL |  FE-110A |
|  外觀尺寸 DIMENSION |  1080mmX880mmX1350mm |
|  重  量 WEIGHT |  320Kgs |
|  電  源 POWER SUPPLY |  AC 220V 50/60Hz |
|  切斷長度 CUTTING LENGTH |  38mm~999,999mm(超短線另計) |
|  產  能 CAPACITY |  55~70pcs/min(100mm) |
|  適用線徑 APPLICABLE SIZE |  AWG#14~AWG#30 |
|  壓著能力 CRIMPING FORCE |  2.0ton |